How to Check Car Oil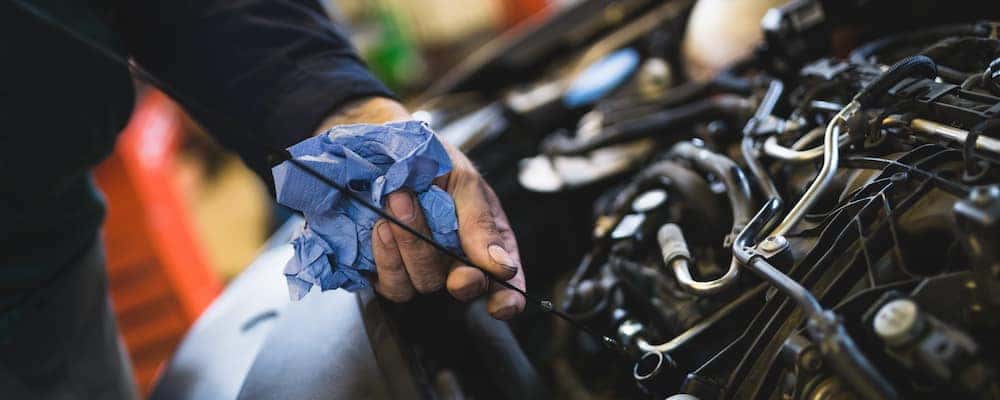 It's important to know how to check car oil before it leads to further damage to your engine as well as many other components that your vehicle needs to function properly. However, there may be some Nisswa and Aitkin drivers that simply don't know what to look for when doing this at home. See for yourself how to check oil levels in cars, and if you need a second opinion, our service and parts departments are standing by to help you.
How to Check Oil Levels in Cars
If you own a new model, check with your owner's manual, as there will be electronic oil monitors and indicators to easily tell you that your oil may need to be changed soon. Older models may still rely on traditional dipsticks which are also an efficient way to check your oil. If your vehicle has a dipstick for oil, you can do a quick inspection right at home by following these simple steps:
Make sure the vehicle is parked on level ground and that the engine is turned off and cold.
Open the vehicle's hood and find the dipstick.
Pull the dipstick out of the engine and wipe any oil from the end of it.
Re-insert the dipstick all the way back into its tube, then pull it out and look at both sides to see where the level is.
The oil streaks will indicate if the oil is good or not, so if the indicator is between two marks or within a cross-hatched area, the level is good. It not, then you should add more. Be sure to buy the grade of oil that's recommended in the owner's manual, remove the oil filler cap, and then add a little bit of oil at a time until the dipstick indicates you've reached the proper level.
Oil Colors and Consistency
Another way to check your oil is by looking at its color and consistency. Conventional engine oils will have a red-amber color and will get darker as you continue to use it. Once it gets really dark, this indicates that it's time for a change. Synthetic oil blends will already look darker and thicker before use, so be sure to keep an eye on the color as you continue to use your vehicle. In addition, if your oil has a lighter color and is a frothy or milky consistency, this could be a sign that some coolant has mixed with the oil, which can signify larger problems with your cooling system.
Turn to Tanner Nissan For Your Auto Service Needs
Now that you know how to check car oil, read our other helpful maintenance features that include how often to get an oil change and vehicle services to get in the fall. To help you save on the maintenance you need, we offer plenty of service and parts specials. Contact us today if you have any questions, or to schedule an appointment near Grand Rapids and Pine River! We'd love to help you learn about maintenance, how to sanitize your car, how to wash a car, Nissan Intelligent Mobility, and how to check your coolant level.