How to Program Nissan Intelligent Key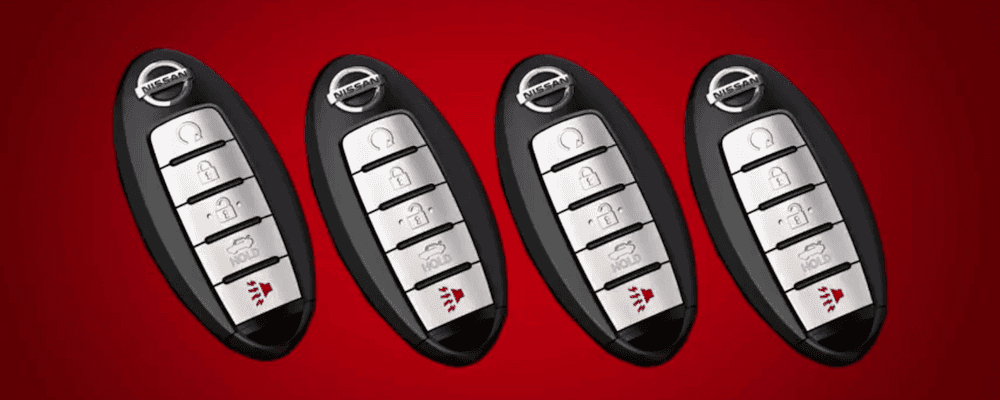 The Nissan Intelligent Key is a technology that lets Nisswa drivers lock and unlock the doors of their Nissan vehicle with just the push of a button. Do you know how to program a Nissan key fob? This also lets you open and close the trunk and start the engine without a key, meaning you can get on the road faster. The Tanner Nissan service team has you covered with quick instructions on how to program a Nissan key.
Nissan Intelligent Key Programming Instructions
To start out, get in the car with the Key and lock the doors.

Insert the key into the ignition, but don't start the car. After that, remove the key. Do this roughly six times, but it can take as many as 10 times. When your car accepts the Key, the hazard lights will flash twice.

Now you're in program mode. Put the key into the ignition and turn the key to activate. The electrics will turn on but you won't start the car.

You'll want to test out the Key next. Stand some distance away from your Nissan and click the buttons on the Key. If the lights flash or the horn beeps once, the Nissan Intelligent Key has been programmed successfully.

You'll also want to give it a go in close proximity. Walk up to your Nissan and open the door. You should be able to do with without having to press any of the buttons.
Need Extra Help?
Tanner Nissan can help Aitkin drivers with how to program a Nissan key fob or anything else that has to do with their Nissan vehicles. If you need a new Nissan key fob, we can help you get one, and we always use genuine OEM parts. We've got a schedule service page that can make the process more convenient for you.
Want More Nissan Intelligent Key Facts?
We've shown you how to program the Nissan key fob push start. Now, if you're looking to learn more about Nissan service, come on over to Tanner Nissan and get it done. We're your full service Nissan dealership and we can even let you schedule service online! We have a contact form and we'd love to hear from you.
Latest on Nissan Models in Brainerd
Nisswa drivers looking for a pickup truck that's powerful enough help them take on their heavy-duty tasks but easy enough to maneuver on the highways and off-road trails will find exactly what they're looking for in the Nissan Titan. The 2022 Nissan Titan towing capacity maxes out at 9,320 pounds and 11,060 pounds for…

When you're driving the 2022 Nissan Frontier, you'll have the power you need in your midsize truck. However, if you're looking for fuel efficiency, you might not expect that the Nissan Frontier MPG is pretty decent! Is the 2022 Nissan Frontier fuel-efficient? How many miles per gallon does the 2022 Nissan Frontier get? The EPA…

The Nissan Versa is here for the model year 2022 and it's got an impressive Nissan Versa MPG backing it up. With this 2022 vehicle, you'll get up to 32 mpg city/40 mpg highway* according to EPA estimates. However, the Nissan Versa gas mileage you get is based on which of the Nissan Versa configurations…